Solutions:
Afia™ Skin Care Solutions

NCL ... Industry Leader in Skin Care Technology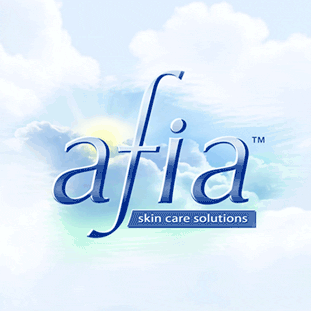 For over sixty years, National Chemical Laboratories has produced World Class Cleaning Solutions with the highest levels of product performance, innovation, and value. We have utilized the latest technology and advances in chemistry to not only make facilities clean and impressive, but also healthy and safe.
Our mission to create clean and healthy facilities starts with the most important component of any facility, the people within.

Routinely wash your hands
One of the simplest, but also most often ignored practices in maintaining personal health is the routine washing of hands. This easy exercise is extremely effective in the prevention of germ transmission. Routine and effective hand washing not only has personal health benefits, but also extends to others in your facility.
With NCL World Class Hand Care Solutions you can take control and reduce the spread of germs responsible for colds and respiratory illnesses, pandemics, and other contagious diseases.
Our in-house staff of chemists and cleaning solution professionals produce an extensive line of hand care solutions to suit the needs and preferences of your staff, customers, students, residents, or visitors.
NCL Hand Care Solutions
Pleasantly fragranced hand soaps that make hand washing a pleasing experience
Thick, rich lathering foaming soaps that feel luxurious and refreshing
High performance hand sanitizers that kill bacteria for critical situations
Dermatologist tested Hypo-Allergenic hand soaps for even the most sensitive of skins
Environmentally friendly, "green", 3rd party certified hand cleaners
With NCL Hand Care Solutions, the staff and visitors to a facility will benefit from the knowledge and experience of our staff comprised of experts in multiple aspects of the sanitary maintenance industry.
NCL HAS THE APPROPRIATE SKIN CARE SOLUTION FOR YOU
---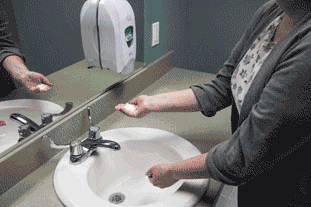 FOAMING HAND CLEANERS
Afia™ offers a wide variety of foaming hand cleaners, including anti-bacterial, alcohol-free sanitizers as well as traditional fragrance based hand cleaners.
Foaming hand soap is an all-around sustainable option that is believed to be easy on the environment, affordable, efficient, and hygienic. The popularity of foaming hand cleaners has grown rapidly in the last few years. Consumers benefit from having to buy less soap, less packaging, and reduced transportation costs per unit.
• Environmentally friendly.
Foaming hand soap is easy on the environment. Less soap is used per hand washing session and therefor less soap ends up in the environment. Foaming soaps are less likely to clog drains, which people often use harsh chemicals and detergents to remove clogs. Industry studies have show that washing with foaming hand soap use less water to lather and rinse than those who used regular liquid soap. Additionally, you can generally get more hand washes per package with foaming soap, reducing packaging and transportation impacts on the environment.
• Cost-effective.
Using less soap per wash means buying less soap. Foaming soap dispensers output less soap than regular liquid soap dispensers, allowing the same level of cleanliness with less soap. Less soap per hand wash means it last longer, which costs less. Consumers save by having to pay for less packaging and transportation.
• Sustainable.
Foaming hand soap is environmentally friendly, but it is also sustainable in a larger context. By reducing the amount of emissions required to transport it, reducing the amount of packaging needed to distribute it, requiring less of it to be used per hand wash, and by using less water to rinse it away, foaming hand soap is a more financially and environmentally sustainable product. As an additional bonus, foaming soap dispensers need to be refilled less often, saving labor, time and money.
---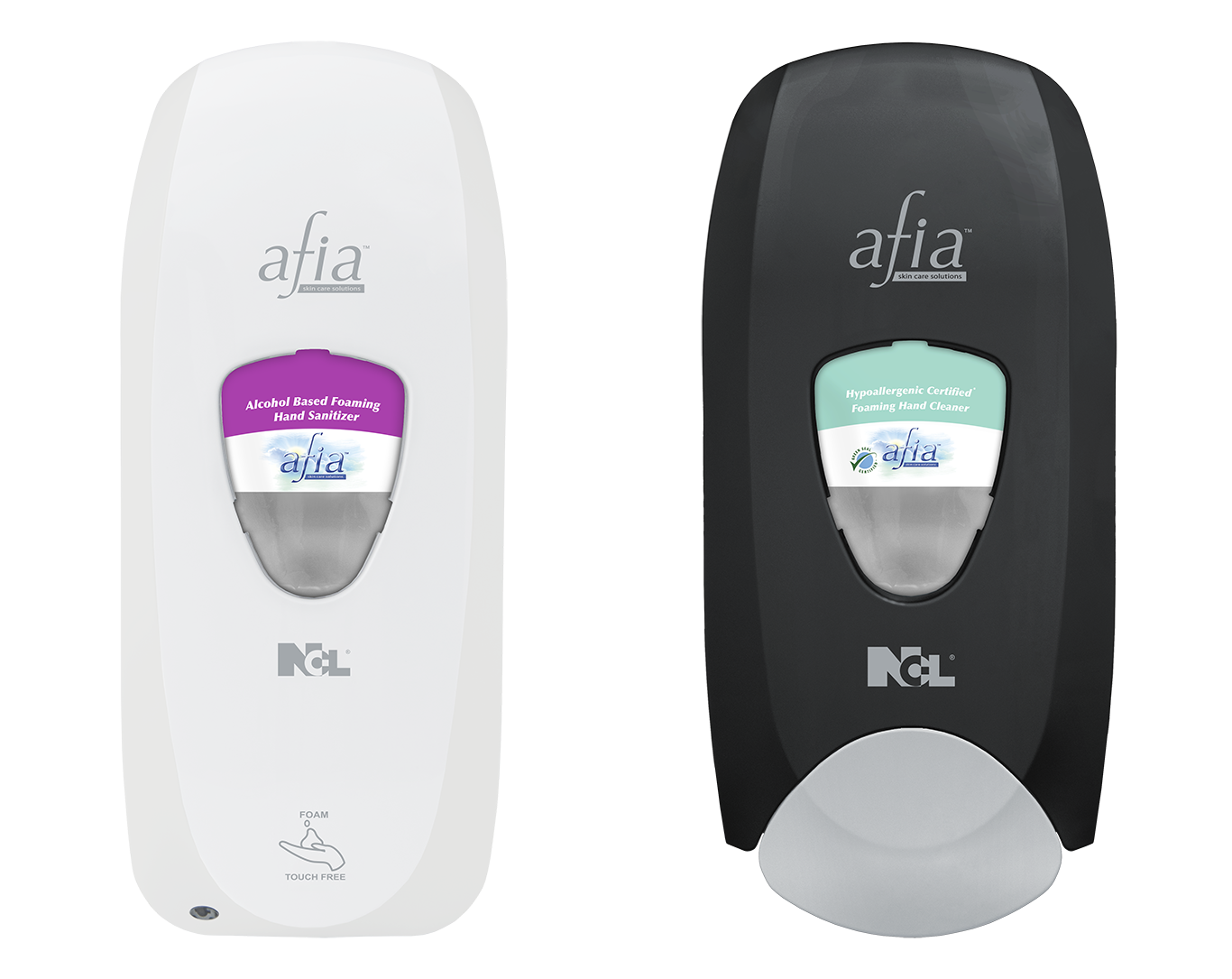 DISPENSERS
Afia™ dispensers are an attractive, modern design made from high quality ABS plastic for long term performance and reliability. With a large view window and Antimicrobial Push Bar the manual dispenser is available in both White and Black.
---
---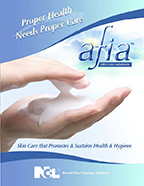 Afia Skin Care Brochure.pdf