Restrooms
One of the most important tasks that must be performed in any building is the cleaning, sanitizing, and maintenance of the restrooms. Clean restrooms are important for many reasons. Visitors often make initial and long lasting opinions on a company based on their first impressions of the restrooms' cleanliness. A clean, fresh smelling restroom is interpreted as being representative of a healthy first-rate, professional organization. Alternatively, an unkempt, malodorous restroom is representative of an unsanitary, lazy, unprofessional organization. Clean and fresh smelling restrooms can also boost morale among employees, students, patients, visitors, and others who enter your facility.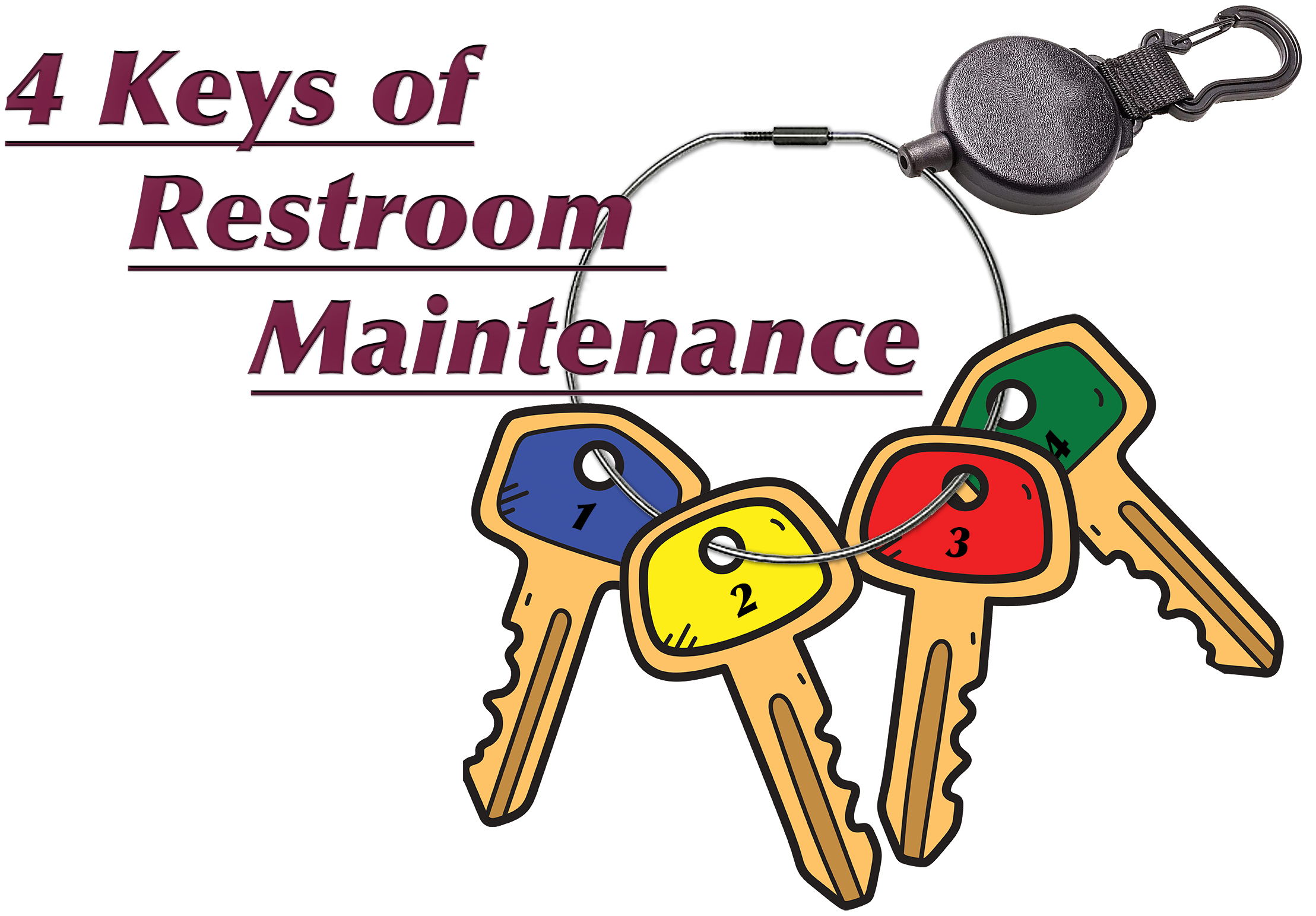 Anyone involved in the care and maintenance of restroom environments know the Four Keys to Restroom Maintenance.
These four keys are the critical factors in restroom maintenance which must be performed properly and in a timely manner to ensure complete cleanliness and sanitation of each restroom.
---

Whenever performing restroom maintenance always check to assure all equipment is working properly and that the restroom is well stocked with supplies, such as toilet paper, paper towels, trash receptacle liners, and hand soap.
---

Thorough and complete cleaning of dirt, soils, and organic matter is an integral step in this process. This step needs to be conducted at least once per day and in many facilities multiple times during the day. Proper cleaning procedures should be conducted top to bottom and in a clockwise or counter-clockwise motion throughout the room. This process is made easier when the appropriate products are used for the specific surface.
---

Recent events have increased the importance of ensuring facilities are not only clean, but also free of disease-causing viruses and bacteria. Eliminating these pathogens ensures a healthier and safer environment for your staff, students, customers, and guests.
---

Even after the restroom has been properly maintained, restocked, cleaned, and disinfected there is still one key component left. No matter how clean a restroom may appear, the public will perceive it as being dirty and unsanitary if foul odors are present.
---
NCL restroom maintenance solutions clean, sanitize, and deodorize every restroom surface.
For a complete tutorial on the proper maintenance procedures and methods to be used in proper restroom maintenance, enroll for free at NCL University Online and sign up for the Employee Training and Certification Program, where you will have the opportunity to take part in the video tutorials covering proper restroom maintenance procedures.