Solution Calculator: Dilution from ounces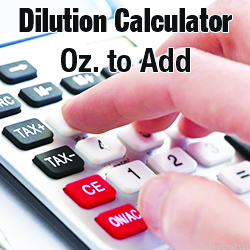 Instructions (How to Use)
So it is time to make up a diluted solution of product. The question is how much product should be added to make the correct dilution.
In this calculator you can adjust the
Number of Gallons of Water to be Used in making the solution, the
The dilution ratio of the product being diluted,
to calculate the number of ounces of product to be added.
To share the results enter an email address and click on Share Results button.